*Vibrates…..VVbb….* *Stretchs arms under the pillow and off the mobile phone alarm… Time 520am*…
Time to wash up and get ready for some action!! Esp after last weekend trip out with the M.J, the spirits were high.
Met up with Suntan & Flashback at Pasir Ris Pond to get some baits and off we went to Elias Park to launch out Yaks..
We met up with Patrick whom wanted to have a look at the Yak and the set up as he is interested in the Yak for some training purposes

By 7am, as we were about to launch our Yaks, we were greeting by a lovely Sunrise over the horizon.
From left – FlashBack, Suntan, Mathew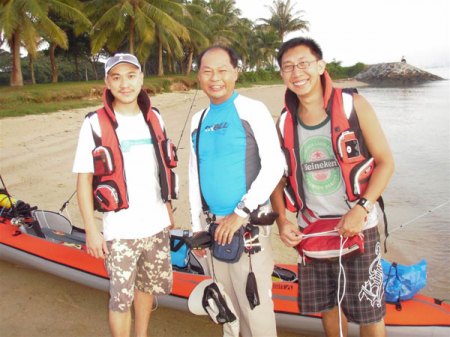 Once into the water, we waved goodbye to Patrick ( Thanks for the drinks and food!! ).. and made our way to the kelongs. With live prawns we were quite confident that we would hit something..
BOY!!! Were we right…!!! I hit into a BUBU!! In the end I had to cut my line.. and Suntan within 5 mins of reaching the destination had both of his line stuck onto a BUBU!!! I had quite enough of the nonsense and decided to peddled back towards shore where I noticed a small opening towards a mangrove swamp and also breakwaters on the side..
Suntan and Flashback decided to try baiting
.. while myself was luring away behind an Army Ground I reckon.. No takers….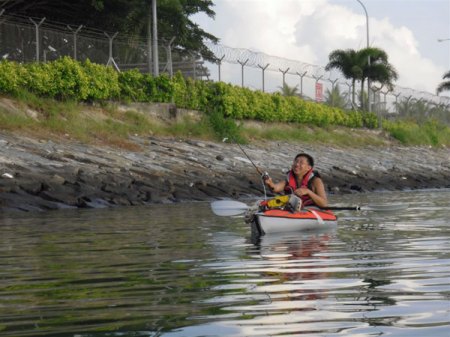 Then I noticed from a distance another breakwater with some construction going on … and decided to peddle there while Flashback & Suntan decided to try their luck at the kelongs again..It took me a good 30mins to peddle to the breakwater and started casting away on my Predatek Lure once again… within my 4th cast I manage to land a small grouper that is almost the same size with the lure!!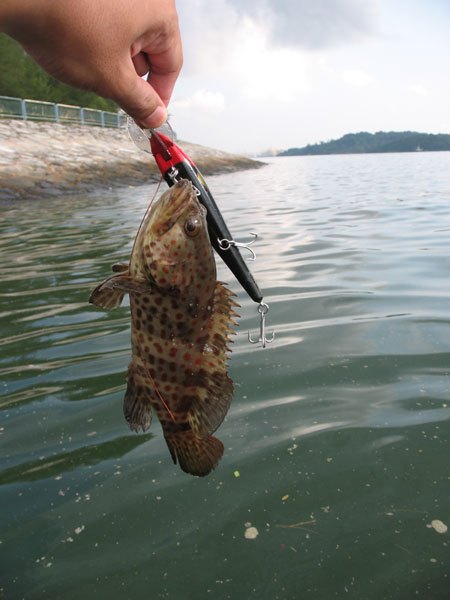 After a few shots it was time to say good bye .. as you can see the water was super super unclean manz!!At this moment.. I decided it was time to join back with the guys as I was getting abit too far from the rest. I could hardly make out where they were.. So it was a hard peddle back at least another 15-25mins before I met up with them.. Just then Suntan had a take on his Tamban jigs and given the way it was fighting it was not a tamban for sure
However it was not meant to be with the fish running for the sticks.. I presume it might be a small queenie or something… Well..at least it was fun while it lasted.
Another hour into the fishing and we decided to call it a day… However, we decided to stop by the Information Kiosk to enquire where the fish went today!!! LOL …
What a way to spend the day =)